Who is James Hardie? James Hardie invented fiber cement siding over 30 years ago. With this much time in the industry, it has given the company time to improve and strengthen the product over the years. They are leading the industry by being America's #1 most popular brand of siding. 
Benefits of Fiber Cement Siding:  Many homeowners are now considering switching over to fiber cement when it comes to replacing their siding. Fiber Cement siding has many advantages that vinyl siding simply just can not provide. Now, with that being said, choosing vinyl siding does not mean your home won't be protected. Vinyl siding still provides the protection needed for a home to be in its best shape. Fiber Cement on the other hand, reinforces other areas to keep your home not only at its best curb appeal, but taking advantage of its performance and durability.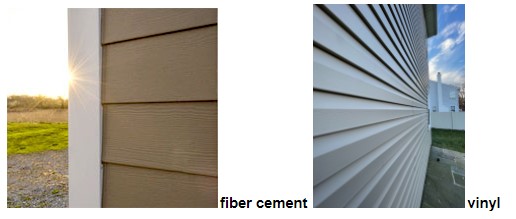 What is fiber cement siding made up of? James Hardie Siding is made up of cement, sand, and cellulose fibers. This combination of materials provides the home with a strong protection and beautiful look. 
Why pick fiber cement over vinyl siding? 
Appearance:  James Hardie siding is five times thicker than vinyl siding

Thicker Grooves

More authentic wood-grain effect

A more elegant look

Function:  Vinyl is made up of plastic that will melt very easy in a fire

Sun reflection from low-e glass windows will not melt James Hardie siding

Resists cracking, warping, melting, and the possibility of loose pieces

Provides Home a larger return on investment than any other exterior remodeling project
Characteristics of James Hardie Fiber Cement
Strong, durable finish

Baked on cured colors that resist chipping, peeling and cracking

UV-Ray Resistant

Moisture and Rot resistant

Consistently provides the same amount of protection that it did from day 1

Less maintenance

Fire Protection

Insusceptible to pests
Installation:  Proper Installation from a quality and Trusted Contractor should take place. That is why Power Construction is here, we are qualified experts to properly install your James Hardie Siding. Without the proper installation James Hardie's warranty will not cover your trouble. Check out some of our James Hardie Installations inside our gallery. 
Warranty
Hardie HL5 siding 30 years express limited product warranty.
https://www.jameshardiepros.com/getattachment/e347699b-bbd0-49c5-b500-b475181dd633/hz5.pdf
ColorPlus Technology 15 Years Express Limited Product Warranty
https://www.jameshardiepros.com/getattachment/bf7ac355-c058-485b-8774-86b9378e4ed0/warranty-colorplus.pdf
Learn more about their product at https://www.jameshardie.com/  
References:  https://www.jameshardie.com/why-hardie/design-flexibility
Brown Blaze from the Statement Collection of James Hardie